Art & Spirituality Class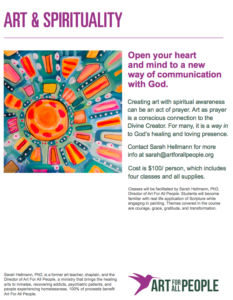 For more information email sarah@artforallpeople.org
"Painting it Forward" Parties presented by Art For All People!
Explore your creative side and contribute to a just cause with a truly unique art adventure. Absolutely no experience is necessary to have a great time.
Local artist and director, Sarah Hellmann will guide you through a featured painting with simple step-by-step instructions. Discover your creative talents and go home with a masterpiece that is exclusively yours.
Fee: *$25 for adults/**$15 for children (includes supplies & instruction)
100% of the proceeds benefit Art For All People, a ministry that brings the arts to people suffering in our community.
Each party includes a special encouraging message that will remind you of the artist that lives within you!
Place: We will come to you with all the supplies, wherever you choose to host your party
If you would like to book a party, please email Sarah Hellmann- sarah@artforallpeople.org 
*Adults- Minimum of 10 people or $250
**Children- Minimum of 10 children or $150